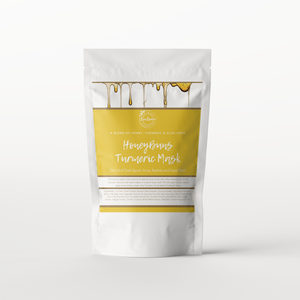 Turmeric Mask
Sale price Price $20.00 Regular price Unit price / per
HoneyBuns Turmeric Mask helps lighten dark spots, clear stretch marks, cellulite, acne and hyper pigmentation. Safe to use on the Booty, Inner Thighs, Private Areas, Neck, UnderArms, Elbows and other discolored body spots. 
Directions: Apply a thin amount to desired area of the skin. Allow Mask to dry for 20 minutes. Remove with warm water or a warm wash cloth. For the best results, repeat steps three times a week and use Turmeric Scrub before Mask.

Ingredients: Turmeric Seed Powder, Mustard Seed Powder, Coconut Powder, Rice Brand Powder, Kaolin Clay, Kojic Acid, Vegetable Glycerin, Honey, Aloe Vera Gel, Aloe Vera Juice, Witch Hazel, Black Castor Oil, Rice Brand Oil, Oil, Sweet Almond Oil, Turmeric Oil, Emu Oil, Vitamin E Oil, Ginger Extract, Papaya Extract, Turmeric  Extract, White Willow Extract, Optiphen, Lemon Fragrance Oil.

Size 8oz